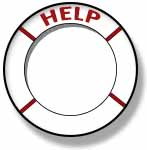 Help
Oops.

We've done everything we can think of to help ensure that you don't have problems using any of our software products, but if something's not working the way you expected, we apologize, and we're ready to help you so that you can focus on studying--and not troubleshooting computer problems.

Because we know what it's like to be stuck waiting for technical support, we monitor our tech support e-mail from 9am to midnight 365 days a year. We really want to take care of your problem as quickly as possible. You can reach us at techsupport@pontneufsoftware.com.

We've compiled a list of answers to some of the most frequently asked questions about our products. You can access these by clicking on one of the links that follow:
FAQs for Web-Based Programs
FAQs for PC-Based Programs
Q: Can I use this program on my home computer as well as on my work computer?
A: Yes. With the online version of the program, you can use the program on as many different computers as you need. The only restriction is that you can only log in from one computer at a time.
Q: I was taking a quiz and was interrupted by a phone call. When I went back to the quiz and clicked on the Next button, it took me back to the Login screen. Now I'm getting an error saying that I can't log in because my ID is already in use. What can I do?
A: When the online exam simulator doesn't detect any activity for a while, the user is automatically logged off. Although your account will eventually reset automatically, just send us an e-mail and we can reset it for you. The technical support e-mail address is techsupport@pontneufsoftware.com.
Q: I am trying to log in to my account but cannot. The login screen indicates that my account is aleady in use. What can I do?
A: Seeing this message is usually due to 1 of 3 things: (1) your account is currently being used by another person; (2) when you ended your last session you did not click on the Logout link (located in the upper right-hand corner of the screen); or (3) your session was closed automatically because of inactivity.

We can help with the problems in the last two cases; just send us an e-mail at techsupport@pontneufsoftware.com and ask us to reset your account.

To avoid this problem do the following: (1) do not share your account login information with others, (2) when you want to end your session, be sure to click on the Logout link in the upper right-hand corner of the screen; and (3) don't leave your session inactive for more than 1-2 minutes.
Q: When I try to activate my program on the web site, I receive an error message that says, "The code you entered is either invalid or has already been activated." What can I do?
A: After you have installed the program on your computer, it needs to be activated. The first time you run the program it will ask you to input the installation code. (This is the 8-character code that you received when you purchased the software). Make sure you are entering this code correctly. If you are entering this code correctly and still receiving this error message, then you may have already used all of the available installations for your copy of the program. You can deactivate one of the prior installations (see the answer to the next question) or, if that isn't posssible, send us an e-mail at techsupport@pontneufsoftware.com and let us know. Be sure to include the Installation Code you received with the program.

Q: Shortly after I installed the program, I bought a new computer. Can I move the program from my old computer to my new one?
A: Absolutely. To do that, you just need to deactivate the program on your old computer. Click on the HELP menu option near the top of the screen, then click on Deactivate Program. A couple of warning messages will be show; click Yes on both of them. A Deactivation Code will be displayed. E-mail that code to us at techsupport@pontneufsoftware.com, and we will reset your account so that you can install the program on another computer.
Q: I received an Installation Code when I purchased the program; why do I need to go to the web site to get an Activation Code?
A: The Installation Code is used to make sure that you are installing a valid copy of the program. The Activation Code is used to keep track of the number of times your copy of the program has been installed. Once the program is installed and activated you won't need to worry about entering either of these codes on the same computer again.
Q: How long can I use the program? Is there an expiration date?
A: When you install the program , there is no expiration date on the program. You can continue to use it as long as it is installed on a compatible computer. That said, however, be aware that the content of the program is only as current as the date on which you purchased the program. Since content of licensing exams frequently changes, we recommend that you check with your school to verify that your copy of the program will provide you with content that is relevant to the current version of the exam.